Guess who is one of the 63 artists at this unique Grove-style event?!?!  :)))))))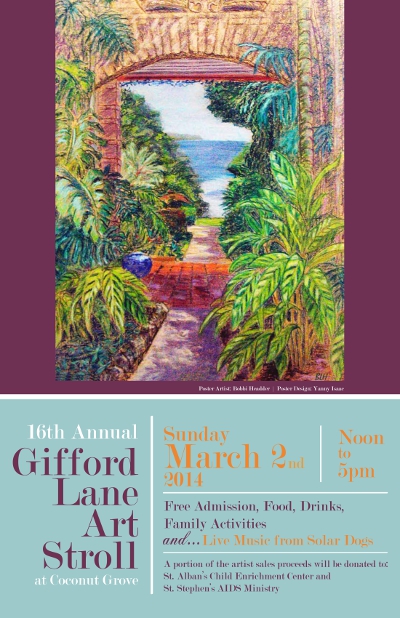 The Gifford Lane Art Stroll Celebrates Sweet Sixteen
Coconut Grove, Florida
The sixteenth annual Gifford Lane Art Stroll will take place this year in Coconut Grove on Sunday, March 2, 2014 from 12 noon until five p.m. Each year the world's tiniest arts festival attracts more people than you can count. They come to purchase first-class art and to imbibe in an exotic cucumber punch. This results in surprising amounts of dancing in the street.
You'll find the Gifford Lane Art Stroll along one normally sleepy , tree-lined block of Gifford tucked in between Oak and Day Avenues (3200 block), across the street from the tennis courts.
There are 63 artists this year. When you hear about Coconut Grove's artist community, this is it. Old-timers often comment that this little festival is the Grove the way the Grove once was. The festival features the art work of dozens of accomplished artists positioned along the little lane on fences, in front yards, on clothes lines, on the branches of the trees and on ladders.
Award-winning Grove artist Ms. Bobbi Header created the gorgeous poster for this year's festival and will be an exhibiting artist at the Stroll.
The afternoon is authentic, unpretentious, and somehow joyous without all the marketing hype. Here is a chance to chat with many of the very finest artists in the region up close and personal. A lot of art is sold.
Sculpture, portraits, seascapes, landscapes, large abstract paintings, mosaics, extraordinary photographs, mixed media, jewelry, and several specific art forms that seem to have no known category are all available along the verdant lane.
Artists also put out complimentary refreshments, chairs and tables. This is a laid-back place to go and relax and listen to some excellent mellow rock and roll and chill. This is a user friendly event.
The live music is nonstop all afternoon and the tunes are sweet. This will be the fifth year in a row that one of South Florida's most popular bands Solar Dogs has brought their musical zest to the Stroll. Jugglers will mingle with the crowd.
Among the many people who attend each year, nearly all of them are attracted by word of mouth, and by being friends of friends. Says Gifford Lane resident David Collins, "This is a community-creating event that breaks every cliché in Miami. It is fun because it is put on by the people for the people, and the people like fun."
The Gifford Lane Art Stroll was started sixteen years ago by a half-dozen artists who lived along this block. Most of them have now moved away but a hearty band of some thirty neighbors have made the little event a Coconut Grove tradition. They meet on weekends for months to hold planning pot-luck supper gatherings to map each year coming up. The group of neighbors is led by artist and founder Trina Collins and organizer Lisa Butler who inspire the neighbors to paint banners to put up, string elaborate cross-street decorations, distribute post cards to their favorite stores and restaurants, and participate in sumptuous planning feasts.
"This is all very unlike Miami," says planner Lisa Butler, "we came together as strangers and now this little festival has made us much closer. We care about each other."
"The core miracle of this little Gifford Lane event is that we all go into each other's' houses to sit and chat and make it happen. We all take responsibility for it," says founder Trina Collins, "and you know what? Now we have residents here who have purchased homes on Gifford because they attended one of the Strolls over the years."
Most arts events approach foundations to help support them. No foundation has ever approached the community-based Gifford Lane Art Stroll to help out. On the contrary, rather than receiving support over the years, the festival has given away 100% of their profit to Coconut Grove-based charities. "I can remember that first year, the little band of six artists who put together the Stroll were so proud to give a total of $100 to the charities. Now we have given away tens and tens of thousands of dollars," says Trina Collins.
The money donated to these charities over a decade-and-a-half has been awarded to the St. Stephen's AIDS Ministry and the St. Alban's Child Enrichment Center in the Grove Village West. This much-needed funding for the Grove charities has been provided by a percentage of all of the art sold, and by donations made by the public for cucumber punch, broiled burgers, hot dogs, grilled shrimp, and wonderful smoked ribs. The food is amazing.
Name one art festival in South Florida that boasts its own libation. The Gifford Lane Art Stroll has been serving thousands of glasses of cucumber punch each year since day one. The drink has been mentioned as something not to miss in The New York Times , and locally by the Miami New Times. The Miami Herald once published the recipe. Big batches of the intoxicatingly heady beverage are only stirred up once a year. It produces a distinctively mellow and pleasing vibe. Somewhere late in the afternoon, a mild indulgence in the cucumber punch causes people to want to go out into the street and dance.
Tiny Gifford Lane was originally named after Coconut Grove resident Dr. John C. Gifford, the first American to hold a doctorate in Forestry. Gifford left the faculty of Cornell University in 1902 to move to the Grove. He taught in the area and was instrumental in starting work to preserve the Everglades as an environmental pioneer.
"The Art Stroll has made us a real place, a community, a portal through which you can re-enter the Old Grove," says Trina Collins.
"On Sunday, March 2nd, everybody who wants to have a little fun should come on out and buy a little art, then have some cucumber punch and do some dancin' in our Lane, or you can just hang out in my kitchen and have a chat with a perfect stranger," says Collins, "you'll like it enough to come back next year, which pretty much everybody does."
The Gifford Lane Art Stroll promises to be a good-hearted afternoon of simple delights under a dappled leafy canopy on Sunday, March 2nd from 12 noon to 5:00 p.m.
[Article & poster (featuring Bobbi Header's work) by the Gifford Lane committee]